Energy innovation is critical solution
Leading America's Renewable Future


To meet the U.S. national climate goal of cutting emissions 50% by 2030 compared to 2005 levels, as well as the Biden administration's 2050 net-zero emissions goal, the U.S. will need to scale a range of new clean energy technologies. While proven technologies such as renewable generation and energy efficiency can drive a significant share of the greenhouse gas emission reductions necessary to achieve the U.S. climate target, new technologies are needed to address the remaining hard-to-decarbonize sectors that are important drivers of economic growth in the U.S., such as industry and heavy-duty transportation. Promoting U.S. innovation and competitiveness will require incentives to scale these emerging technologies.  
One such emerging technology is green hydrogen, which is well-placed to help the U.S. address a range of hard-to-decarbonize sectors. Green hydrogen is made by using zero-emissions electricity to run an electrolyzer, which splits water into hydrogen and oxygen while producing no greenhouse gas emissions. Hydrogen is a versatile fuel that can be used in a wide variety of applications, including industrial processes, as a transportation fuel or as energy storage for the power grid.
Although existing federal and state policies support a variety of other clean energy technologies, there is currently no quantified federal incentive specifically for green hydrogen. Green hydrogen technology has reached a level of technological maturity where federal tax incentives will be effective at driving deployment, creating jobs and generating economic growth. Tax credits have been a cornerstone of federal policy for rapidly scaling solar and wind technologies; the solar power investment tax credit and wind power production tax credit have created a $55 billion domestic solar and wind power market, produced 0.4 million jobs and account for over 10% of power generation.1
A production tax credit targeted at green hydrogen is necessary to grow the national green hydrogen market, create good-paying clean energy jobs and achieve U.S. climate goals.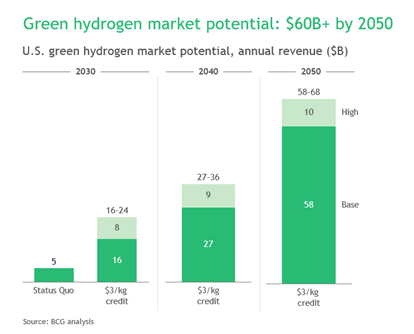 A recent study suggests that a $3/kgH2 production tax credit could create approximately 1-2 million good-paying domestic jobs. By 2050, the green hydrogen market could expand to approximately $60-70 billion annual market and trigger a cumulative $1.5-2.0 trillion of capital investment. Jobs in the green hydrogen industry will have an estimated median salary of about $55,000.2 Jobs would be created across the green hydrogen value chain, including in equipment manufacturing, project construction and facility operations. 

Creating a new green hydrogen market would position the U.S. as an international leader in clean technology innovation. The European Union (E.U.) recently announced a 40 GW green hydrogen target by 2030, which would make the E.U. green hydrogen market approximately 2.5 times bigger than the U.S. market absent U.S. policy action. However, a recent analysis shows that with a $3/kgH2 production tax credit for green hydrogen, the U.S. green hydrogen market could grow to as much as double the E.U. market by 2030 — making the U.S. the largest green hydrogen market globally.
Green hydrogen is needed for deep decarbonization in hard-to-abate sectors across industry, transportation, power and buildings. For example, green hydrogen can be used in the industrial sector to decarbonize fertilizer production and reduce agricultural emissions. In the transportation sector, green hydrogen can be used as a long-haul trucking fuel. Currently, decarbonizing many of these sectors is either technically challenging or is cost-prohibitive absent policy incentives.
The many end-uses for hydrogen make it a leading pathway
to a zero-carbon future across many parts of the U.S. economy
Power Sector 
Backup power
Remote generation
Hydrogen turbines
Recip. engines
Ancillary services
Microgrids
Transport
Trucks
Forklifts
Buses
Trains on
nonelectrified routes
Regional ferries
Oceangoing ships
Aviation and aerospace
Industry
Ammonia
Methanol
Refining
Steel production
Synthetic fuel production
Furnaces and ovens
Buildings
Combined heat and power
Hydrogen boilers
Blending of hydrogen 
in natural gas boilers
1 S&P Global "Investment in US clean energy to total $55 billion in 2020: Generate Capital" Nov 23, 2020; Forbes "Renewable Energy Job Boom Creates Economic Opportunity As Coal Industry Slumps" April 22, 2019; EIA "EIA projects renewables share of U.S. electricity generation mix will double by 2050" February 8, 2021n the sun is going down but air conditioning needs remain high.
2 Roger Bezdek "The hydrogen economy and jobs of the future" Renewable Energy and Environmental Sustainability, January 8, 2019.